It is with great pleasure that I review the third outing from Brighton-based outfit, Blood Red Shoes. Since seeing them in….2007?…at Shepherd's Bush Empire – supporting the delectable Siouxsie Sioux – I have been a somewhat faithful follower of the pair. Now, this kind of introduction would lead you to believe that I will be giving In Time To Voices an instant *****. It would be easy for me, but not for you or the band (I sure that they would want me to produce some lovely soundbites to place on tour material etc.). ANYWAY, I'll be doing a track-by-track review – for the lols. M'kay?. M'kay!
'In Time To Voices': Speaking of Siouxsie Sioux, the drumming on this track is definitely a 21st century impression of Siouxsie & the Banshees. The tribal rhythm compliments the overtly sexual drawl of Laura-Mary equally as much as the tuneful caterwauling of Steven Ansell. As an opening track, it doesn't necessarily tell you everything that's in store for the next half an hour or so, but it does give rise to a place in the mind that causes one to – ahem – "rock out".
'Lost Kids': Written about the 2011 London Riots, this song is standard Blood Red Shoes fare. The guitar work is suitably garage-y and crunching, which is another match made in heaven with the voice of Steven. I dare say that this should have been the first single to come from the album, because it has the punch that previous singles from previous albums have packed (see: 'Heartsink' and 'It's Getting Boring By The Sea').
'Cold': THIS is the first single to come from In Time To Voices. Not that I'm saying this is a bad song, because it isn't by any means. It works on many levels that are often out of reach of the listener and that's what leads them back for more. Lyrically however, it isn't the best song that the duo have ever done – which is why I think something like 'Lost Kids' would have done better in the charts. But, what I know right? Oh yeah. Everything.
'Two Dead Minutes': This might be because I've listened to a lot of The Dandy Warhols lately, but this track sounds very similar to them. Not totally, as I think this track has some eerily ethereal qualities to it. There's also a hint of early Flaming Lips, here (see last sentence). Once the last forty seconds begin however, the influences dissipate and what we get is a highly concentrated form of Blood Red Shoes that bursts from the speakers.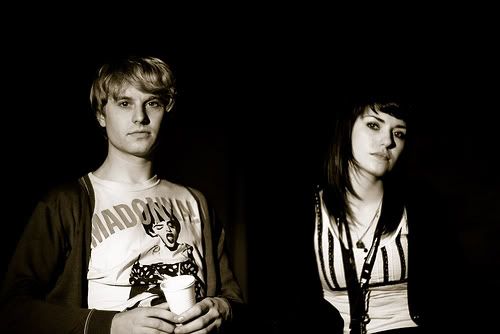 'The Silence and the Drones': This track is a prime example of a band matured. It is effortless in its workings and just allows you to be bowled over. Before you even know it, nearly five minutes have elapsed – which is a good thing. Lucky for us, there's still more to go…
'Night Light': "O HAI! Where you been White Stripes?" "Oh sorry,we're actually Blood Red Shoes. But let us teach you about proper rock 'n' roll!" This track is probably the highlight of the album, for me. In a state of constant elevation of three minutes, it takes the Pixies' 'LOUD/quiet' ethos and kicks it firmly in the buttocks. 'Night Light' moods and broods brilliantly, while retaining a certain aching state of desperation.
'Je Me Perds': Fuck yeah! It may only last 1 minute 28 seconds, but this an interlude that swings you around like a cat in a box room. Fan-fucking-tastic. It's made me swear, so it must be good.
'Stop Kicking': The sound of this song is quite epic. It's brings in a bit of Interpol, a bit of Arcade Fire and a bit Tin Machine for good measure. With a combination like, who can refuse this cacophony of beauty? There's also just enough dirtiness in the song to make you feel like you should have a shower afterwards.
'Slip Into Blue': The intro to this is almost exactly like John Cale's 'Catastrofuk', but manages to turn itself into a song that wouldn't be out of place on a Queens of the Stone Age album (if it were a bit heavier). Something that I have barely touched on thus far, is that this album is tremendously sexy. It's the equivalent of coming home from work to find your partner covered in whipped cream and asking you to find the banana split. Delicious and wonderfully perverse.
'Down Here In The Dark': And so, we're taken back to Box of Secrets. Three albums in and the duo can be forgiven for a bit of totalitarian nostalgia. Even so, the song is not out of place here. If you think things were sexy before, then wait until you hear this track! Phew! Where's that spoon?
'7 Years': As the old saying goes, "All good things must come to an end". At this point, I'm all sexed, garaged, epic-ed and drummed out. But – in true morbidly obese style – I reach out and go for one more. It's a fantastic ending to an album that has brought little in the way of surprises, but a lot in the way brilliance.
My only criticism is that there may be some points where the sound melds into one, but one can get over that easily. So, well done Blood Red Shoes, you've made it into my 'Top Albums of 2012′ list already.